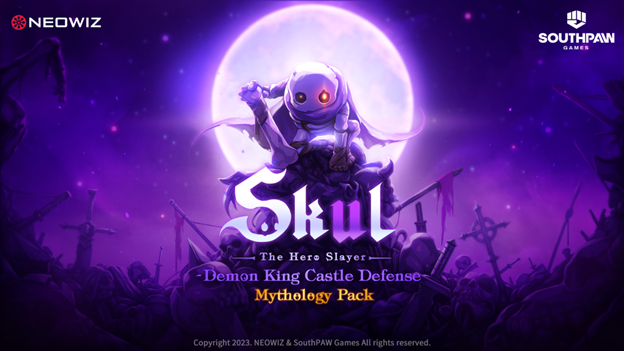 El mundo de los videojuegos está de enhorabuena: Skul: The Hero Slayer, el juego indie de SOUTHPAW GAMES aclamado por la crítica, anuncia el lanzamiento de una importante actualización de contenido gratuita y su primer DLC de pago, el Mythology Pack. Este título repleto de acción sigue evolucionando, invitando a los jugadores a sumergirse en un mundo de emocionantes batallas, nuevos personajes y legendarias historias...
.
The Demon King Castle Defense y el DLC Mythology Pack ya están disponibles para PC a través de Steam. Los jugadores de consola pronto podrán unirse a la acción, con más información sobre la actualización de consola próximamente.
Gran actualización de contenido gratuita: Demon King Castle Defense
Ya está disponible la última actualización gratuita de Skul: The Hero Slayer, que incluye la esperada Defensa del Castillo del Rey Demonio.Los jugadores pueden sumergirse en intensas batallas, enfrentarse a desafíos estratégicos y experimentar un gran final que les dejará sin aliento.

Esta gran actualización de contenido gratuita está diseñada para cerrar el viaje de Skul con broche de oro, ofreciendo una experiencia de juego inolvidable.

Pack Mitología - El primer DLC de pago de Skul

Embárcate en una aventura legendaria con el primer contenido descargable de pago de Skul, el Pack Mitología, ya disponible al precio de $3,99. Este DLC introduce cinco nuevas calaveras jugables (personajes), cada una inspirada en mitologías famosas, que ofrecen habilidades y estilos de juego únicos.

El Pack Mitología incluye 20 nuevos objetos relacionados con las mitologías de estos personajes, permitiendo a los jugadores personalizar su experiencia de juego. Además, una nueva inscripción añade una capa extra de estrategia al juego. Para más información sobre Skul: The Hero Slayer y para experimentar las últimas actualizaciones, visita la página oficial de Steam.